Reference Pages
11 May 2022

3 Minutes to read
Reference Pages
Updated on 11 May 2022

3 Minutes to read
---
Reference Pages provide a simple way to highlight your favorite G2 reviews while crafting a shareable, branded web page that can be customized for your target audience.
Reference Pages contain content associated with your G2 product profile, including G2 Market Reports, G2 reviews, and Crowd Quotes. You can also add your organization's marketing media, such as downloadable files and video embeds.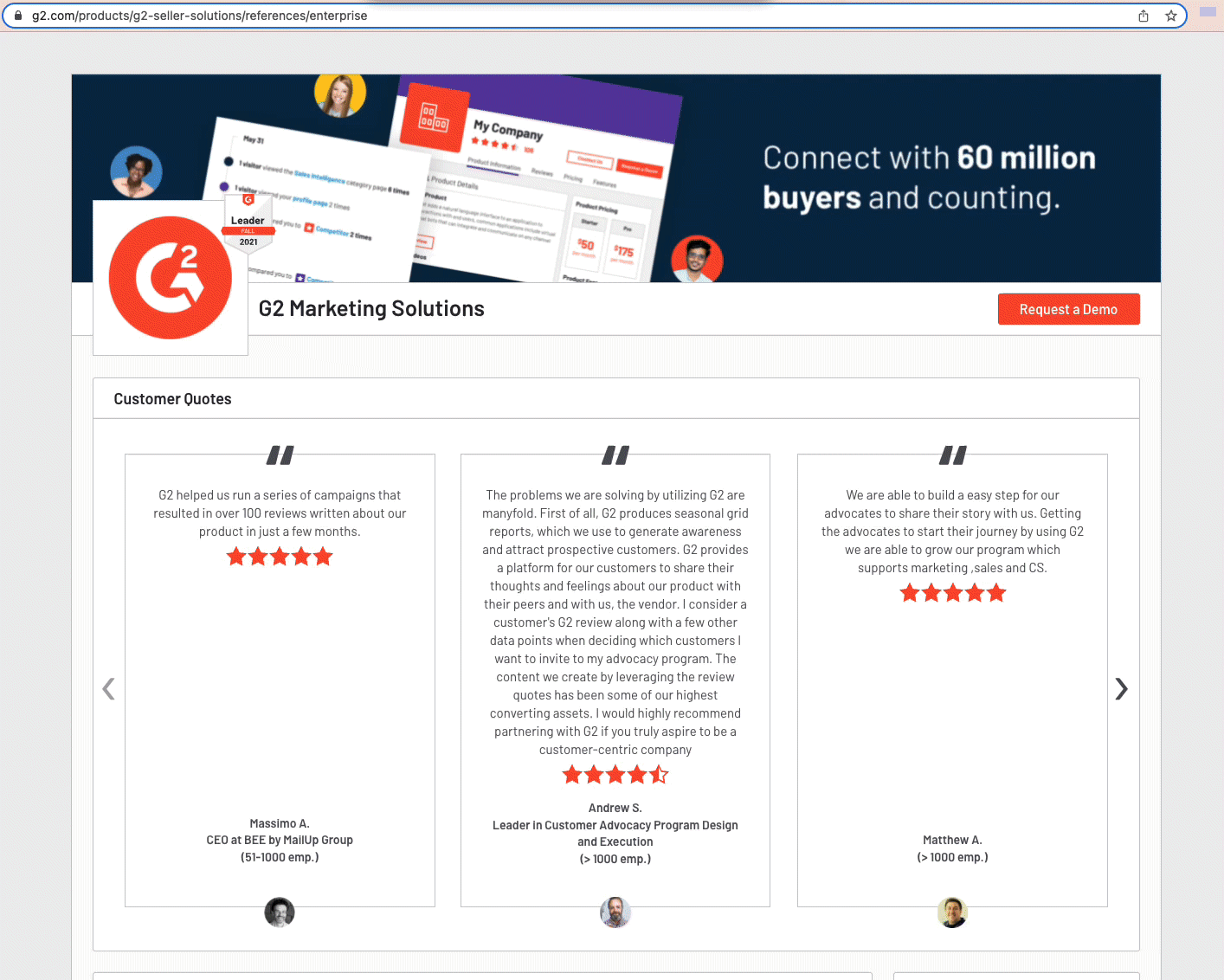 G2 hosts your Reference Pages on an isolated web page, which means you can display your product's reviews and other content in a space free of competitor products.
Use Reference Pages in your account-based marketing (ABM) campaigns by highlighting reviews from brand advocates in the same industry, region, or department as your prospects. Select this link to view a sample Reference Page created for Enterprise audiences.
Elements of a Reference Page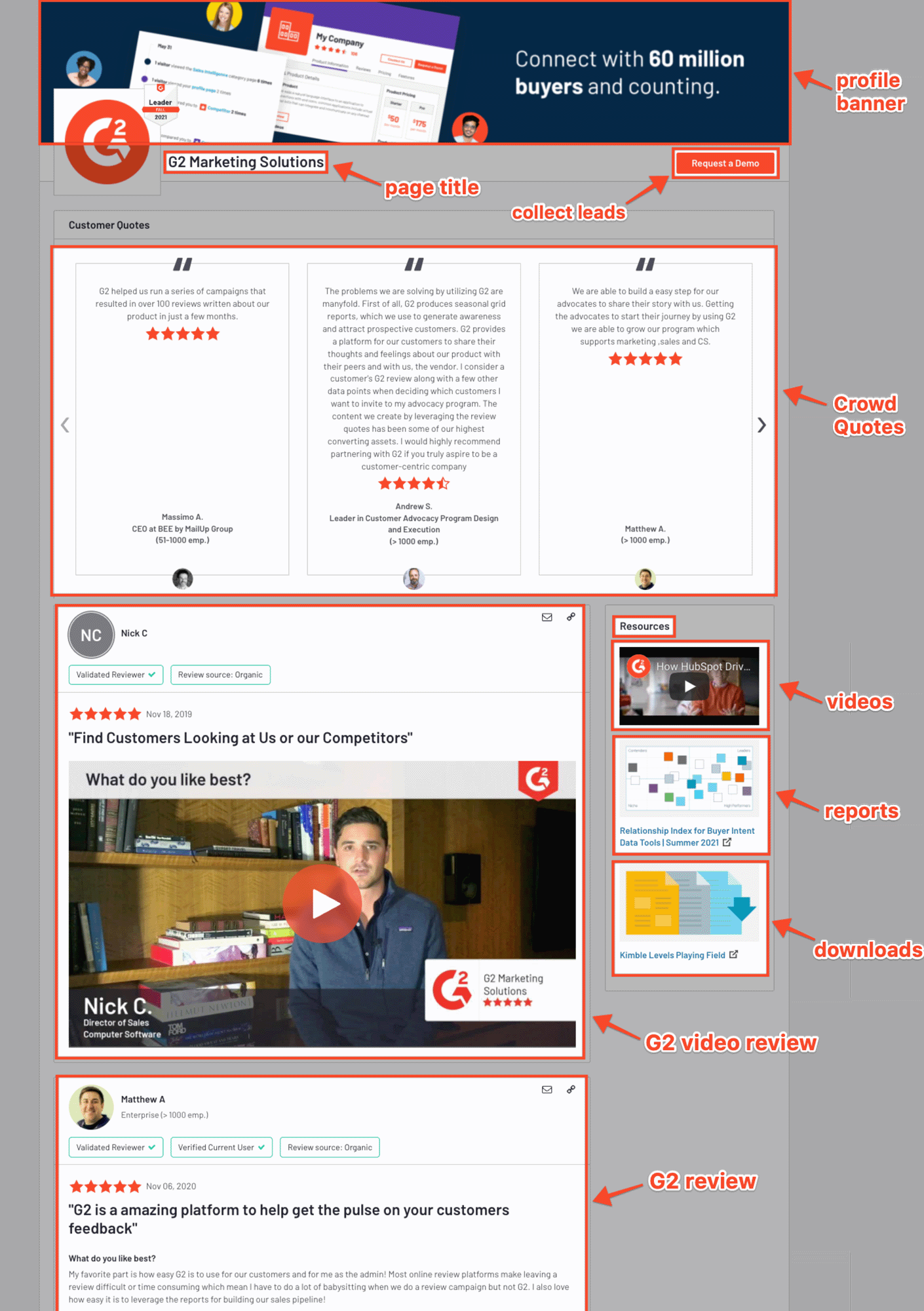 Creating a Reference Page
You can create an unlimited number of unique Reference Pages. Each page is hosted by G2 and is assigned a publicly-accessible URL.
To create a Reference Page:
In my.G2, go to Marketing Content > Reference Pages.
Select Add Reference Page to access the Create a Reference Page editor.
Enter a Reference Page Label. This label should be named to help you quickly identify the contents or intended audience of the Reference Page. For example, "G2 References for mid-market APAC organizations."
Enter a Page Title. This title is public and appears at the top of your Reference Page, next to your product logo.
The page title also acts as the slug to your Reference Page URL. If two Reference Pages are given the same title, G2 adds a unique ID to the end of the URL for the newer Reference Page.
Set your Reference Page content:
Profile Banner

If you have already set a product profile banner in my.G2, it will auto-populate. To change an existing banner, select the banner image, then upload your new image when prompted.


Adding a link to Video URL will cause the linked video to begin playing when a user selects your banner image. Videos must be hosted on Youtube, Wistia, Vidyard, or Vimeo.

Leads

Select Collect leads with a lead button to add a "Request a Demo" button to your Reference Page. When a user selects this button, they will be presented with your G2 Leads form. Leads data is collected and distributed based on your preferences in my.G2.


Video Reviews

Select Choose Video Reviews to add up to five G2 video reviews to your Reference Page.

Select Add this Review for each video you want to add, then select Save.

Quotes

Select Choose Quotes to add up to five Crowd Quotes to your Reference Page. For more information on creating Crowd Quotes, refer to G2's Crowd Quotes documentation.


Use the filters to find Crowd Quotes, then select Add this Quote for each Crowd Quote you want to add. Select Save to finalize your changes.

Resources

Select Add a Resource to add additional media in a sidebar of your Reference Page.


This can be a downloadable file, a linked video, or a G2 Market Report.

Reviews

Select Choose Reviews to choose the G2 reviews you want to add to your Reference Page.


Use the filters to find reviews, then select Add this Review to each review you want to include. Select Save to finalize your changes.
Rearrange items of the same content type by using the left-hand side drag handles. The order of the content types (Video Reviews, Quotes, Resources, Reviews) cannot be changed.
Select Save to generate your Reference Page.
Viewing and modifying your Reference Pages
You might want to update your Reference Pages to reflect your most recent reviews or Resources.
To view and modify your Reference Pages:
In my.G2, go to Marketing Content > Reference Pages.
By default, all Reference Pages created by your organization are shown. Select Created by me to display only the Reference Pages created by the logged-in user.
From this page, you can:
Select the duplicate icon to create an exact copy of the Reference Page. G2 adds a unique ID to the URL for the duplicated Reference Page.
Select the clipboard icon to copy the URL for a Reference Page to your clipboard.
Select the edit icon to access the Update Reference Page editor. From this editor, you can add, remove, and rearrange content.
Select the trash can icon to delete a Reference Page. This action cannot be undone.
Modifying the title of your Reference Page changes the slug of your Reference Page URL. Please make sure to update any resources that use the previous URL.
---
Was this article helpful?
---
What's Next