Basics of the G2 CRM Connector for Salesforce
09 Nov 2022

2 Minutes to read
Basics of the G2 CRM Connector for Salesforce
Updated on 09 Nov 2022

2 Minutes to read
---
The G2 CRM Connector houses G2 data in your Salesforce environment. This app is not a separate application on Windows or macOS, and it is not downloaded from the iOS or Android app stores. Instead, a Salesforce connected app such as this one can be viewed as a framework to help deliver data from an external source (in this case, G2) to a Salesforce environment via APIs and authentication protocols.
The core C2 CRM Connector experience shows up as a collection of custom objects and tabs.
How G2 data flows throughout Salesforce
When assessing the usefulness of the G2 CRM Connector, it is critical to understand where G2 data lives within Salesforce by default, and how to make that data flow throughout the Salesforce environment.
The following diagram summarizes the default experience of the integration:

In this scenario, G2 data is only being delivered to the custom objects outlined in the G2 custom objects and fields section and the tabs outlined in the G2 Salesforce tabs section. Items such as new Reference Pages that are created in the G2 Salesforce Connector app are synced back to G2 servers so they appear in the my.G2 admin dashboard.
While the default experience can be useful, the true power of the G2 CRM Connector is only enabled when G2 data is allowed to flow throughout the Salesforce environment.
The following diagram represents the areas of Salesforce where G2 data can potentially flow: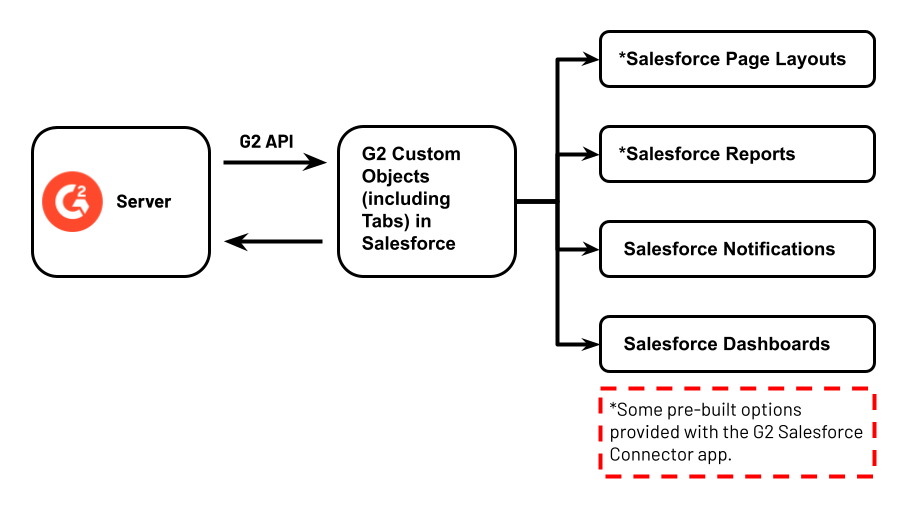 G2 data can be used in Salesforce to:
---
What's Next