Release notes
21 Nov 2022

6 Minutes to read
Release notes
Updated on 21 Nov 2022

6 Minutes to read
---
G2 updates products and features on an ongoing basis. The following release notes provide brief information about some of the significant, customer-impacting releases that G2 has made available, along with links to more complete documentation.
---
November 2022
Highlight your product's key features via a self-guided tour embedded directly on your G2 product profile!
Make smarter go-to-market decisions by leveraging G2 review data to generate real-time insights about your customers, competitors, and market trends!
October 2022
Advertise exclusive software deals to buyers actively researching your product or category on G2!
Showcases your suite, platform, or cloud-level solution by aggregating content from your individual G2 product profiles into a single suite profile!
September 2022
Take immediate action on expiring landing pages, new reviews, and more by offering personalized updates for your products listed on G2!
August 2022
Leverage your G2 product profile traffic by enabling buyers to schedule meetings with your team directly from your G2 Lead form!
July 2022
You can now use G2's new Buyer Intent scoring components to create audience segments in LinkedIn Matched Audiences! Further refine your searches by targeting accounts based on Buying Stage or Activity Level.
---
May 2022
Generate G2 reviews directly from your Delighted surveys!
Add your G2 Badges directly into your Canva presentations!
G2 Stack enhances the Buyer Intent signals you already receive from G2 by incorporating tech stack data to better inform your marketing and sales strategies. Stack data identifies the specific software products that buyers are already using!
April 2022
Visitor location added to Buyer Intent signals for five G2 integrations
When a individual buyer generates a G2 Buyer Intent signal, G2 collects the geo location of the visitor in addition to headquarters information for the buyer organization. That geo location for the visitor is now included in the Buyer Intent signals that you already receive for five of G2's integrations, including:

---
March 2022
Free-text responses can now be added as part of custom questions for your G2 review form! In addition to the multiple choice questions already available, free-text custom questions offer your product's reviewers the ability to answer a question without using pre-defined responses.

Use your G2 Buyer Intent data in Pipedrive with this new integration!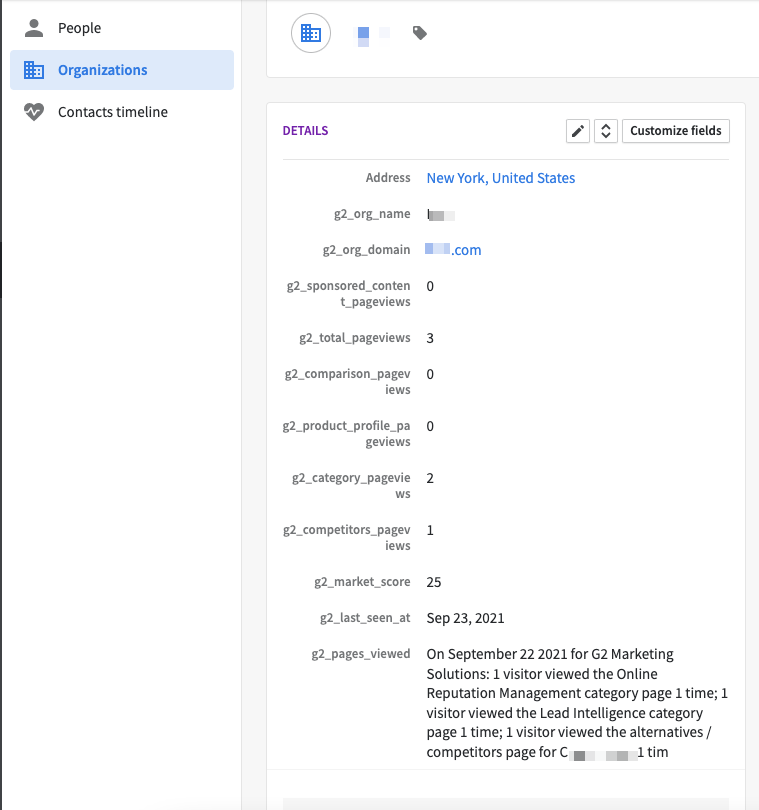 February 2022
You can now choose which of your G2 Badges is shown to buyers on your product profile page!

The content that you upload to your product profile is now made available in marketplaces that contractually syndicate G2's content! Content syndication saves you the time of maintaining product profiles in other marketplaces by enabling buyers to interact with the screenshots, vidoes, and downloads that you have already uploaded to G2.

November 2021
You can now add custom questions to the standard G2 review form! Custom questions enable your organization to collect information from reviewers that is specific to your product.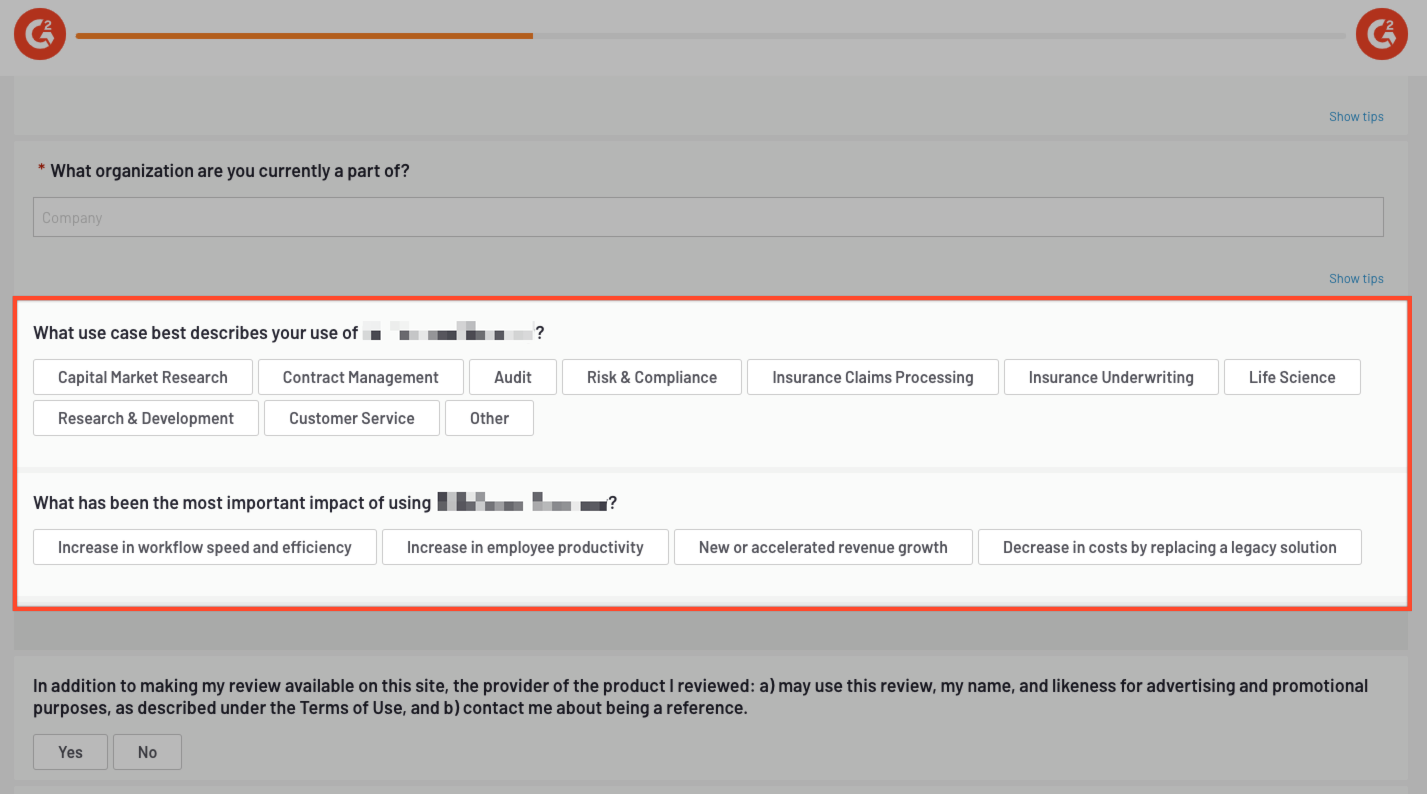 ---
October 2021
Four new G2 Buyer Intent integrations
Four new G2 integrations have been released, including:
These integrations enable you to use your organization's G2 Buyer Intent data in the platforms that are already part of your user's workflows!
my.G2 Buyer Intent tab enhancements
G2 has added several options to your my.G2 Buyer Intent information that makes it easier to filter Buyer Intent signals and spot activity by your ideal buyers. To find your Buyer Intent, go to my.G2.com and access Buyer Activity > Buyer Intent > Your Signals (or open this link to go there directly).
The new Ideal Customer Profile (ICP) filters enable you to include and exclude Buyer Intent signals based on several factors, including the buyer organization's demographics, G2 product categories, and the specific type of signals generated.

Firmographic analytics have also been added to provide an easy view of your Buyer Intent signals based on activity by country and employee counts.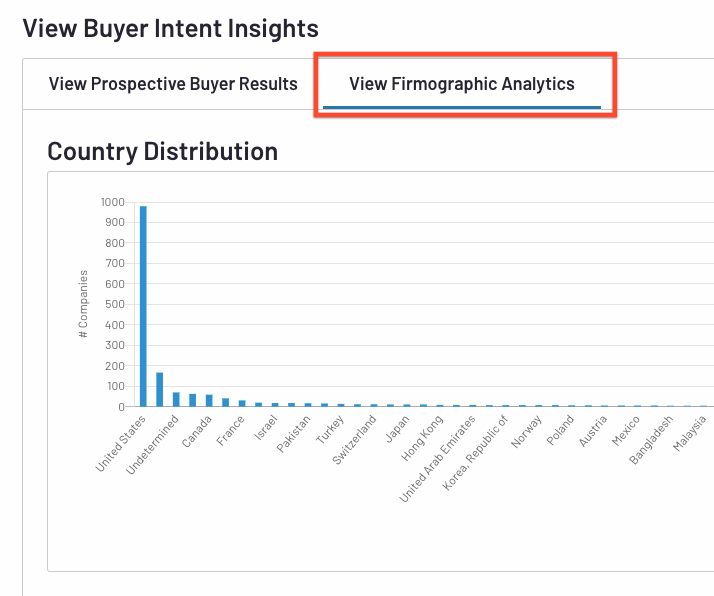 You can also simplify your view of buyer activity using the new Edit Table View. These filters enable you to add and remove columns of information so you can review only the information that is most important to your organization.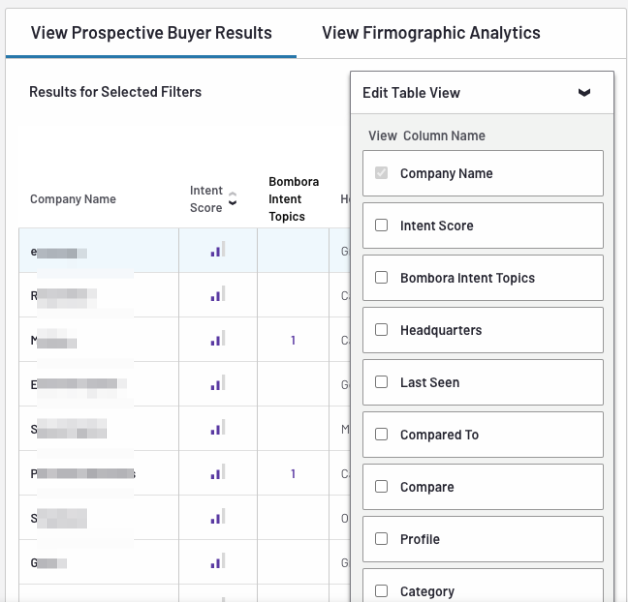 ---
September 2021
Quarterly Report Grid Widget
If your organization has purchased a quarterly G2 Grid Report, you now have access to the Quarterly Report Grid Widget! This new Grid Widget type prominently features your logo and helps showcase your product's position in a quarterly G2 Grid ranking.
To find your Quarterly Report Grid Widgets, go to my.G2.com and access Marketing Content > Widgets > Grid Widget (or open this link to go there directly).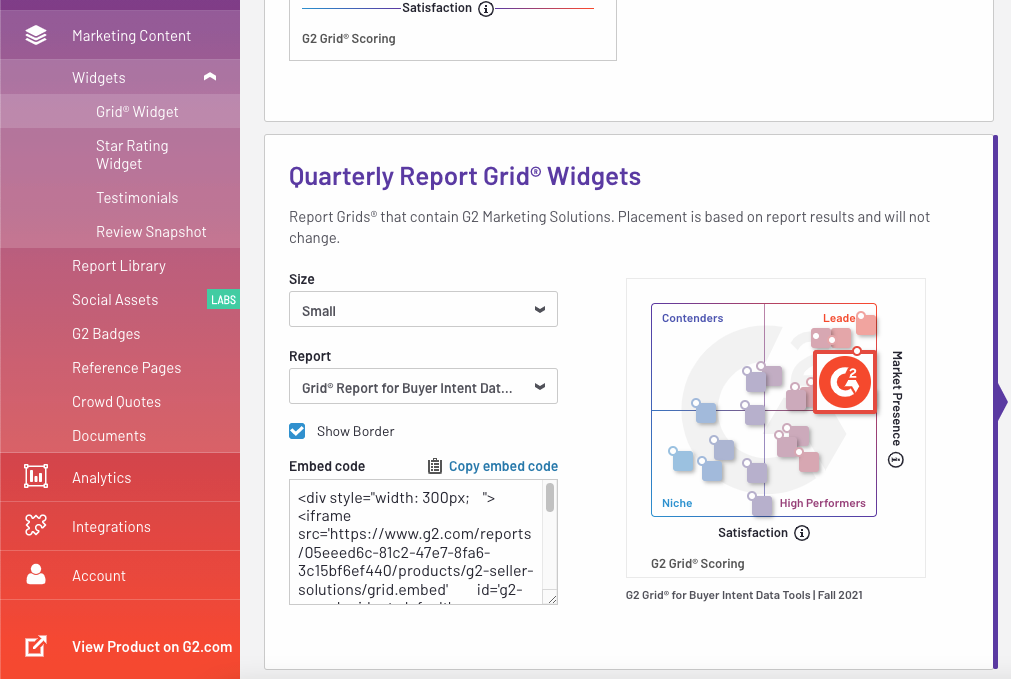 To better assist buyers and product users, G2 now adds up to four pinned questions to the Discussion section of product profiles for certain products. These questions are generated as a result of extensive market research by G2 to determine the questions that customers ask most frequently.

The new Configuration Assistant makes it easier to implement and manage the G2 CRM Connector for Salesforce! Now, when setting up the integration, the Configuration Assistant enables your organization to quickly complete and verify important steps in the implementation process.

Improvements have been made to the way you add packages and pricing to your G2 product profile. The new Add a Pricing Edition layout enables you to add more information about your packages and pricing, including types of units, billing frequency, and monetary currency.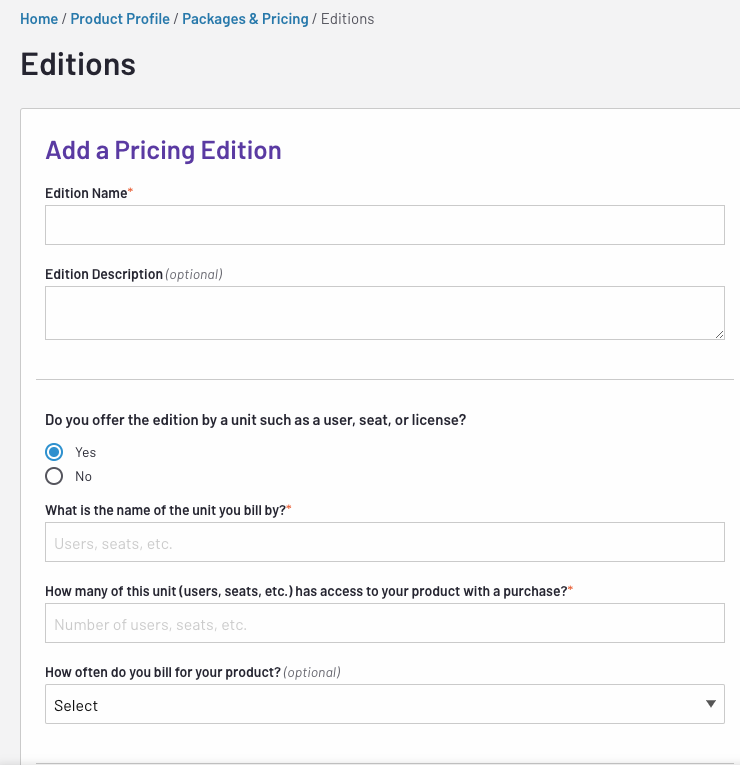 ---
August 2021
In-app review prompts make it easier for reviewers to submit reviews to G2.com, and eliminates the requirement that vendors supply G2 with customer email lists to fuel Review Campaigns!
---
July 2021
The G2 Pendo integration makes it easier for reviewers to submit reviews to G2.com, and eliminates the requirement that vendors supply G2 with customer email lists to fuel Review Campaigns.
The Values & Ethics tab has been added to my.G2. Adding information about your organization's values enables buyers to have more agency in their decisions and ensure their values align with the vendors they are purchasing products from.
---
June 2021
The G2 Medallia integration makes it easier for reviewers to submit reviews to G2.com, and eliminates the requirement that vendors supply G2 with customer email lists to fuel Review Campaigns.
Vendors that receive multiple categories of G2 Buyer Intent data as part of their G2 plan can now create LinkedIn Matched Audiences segments that only include specific categories. This enables you to create more targeted LinkedIn ad campaigns based on G2 Buyer Intent category activity!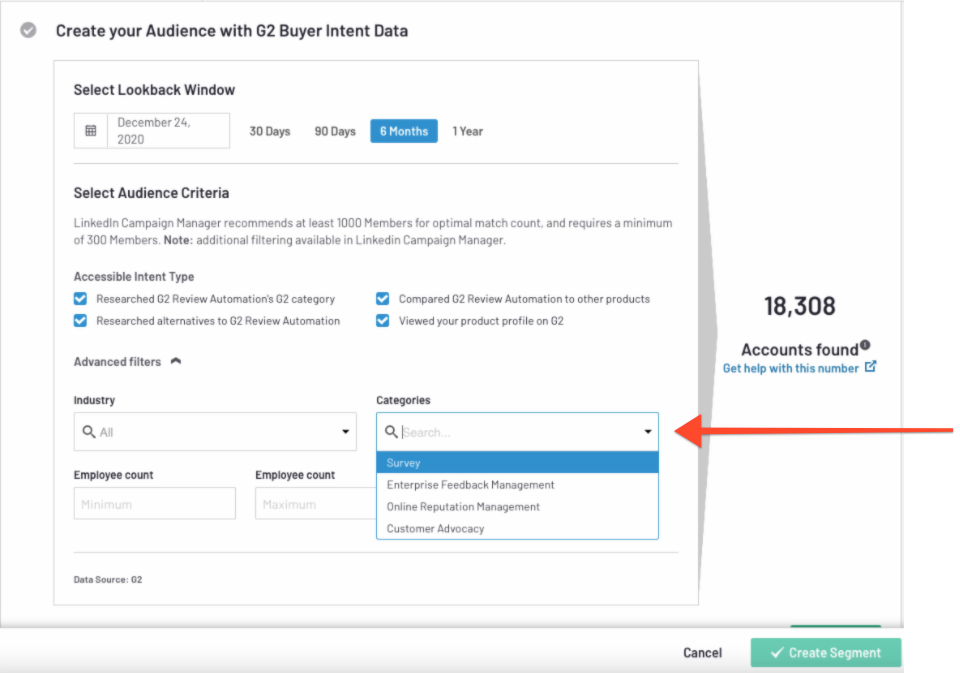 ---
May 2021
Drupal widget
G2's Drupal widget enables you to more easily collect G2 reviews AND highlight the reviews that your product already received on G2.com.
---
April 2021
By embedding G2's Star Rating Widget, you can also gain star ratings in Google and other search engines based on your product's G2 rating.
Google and other search engines display aggregate ratings for products. The result includes visual stars, review scores, number of reviews, and other information.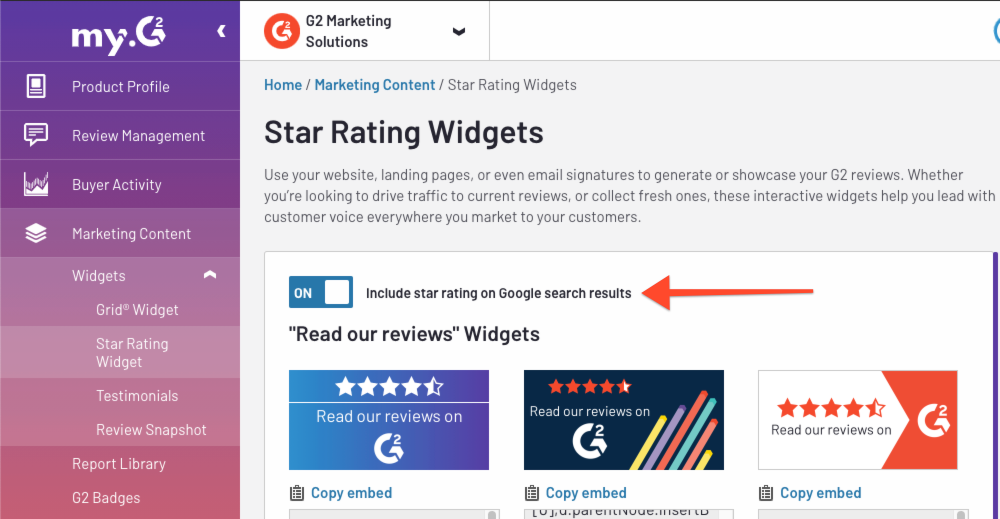 ---
February 2021
You can now manage live Review Campaigns directly in the my.G2 Campaign Dashboard tab! The following capabilities have been added:
Purchase additional gift card funds via credit card.
Apply those gift card funds to a Review Campaign, and then move funds across campaigns as needed.
See how much of a gift card budget has been used for a Review Campaign.
This means you no longer have to rely on G2 Customer Support for these tasks, making it quicker and more efficient to manage Review Campaigns in real-time.